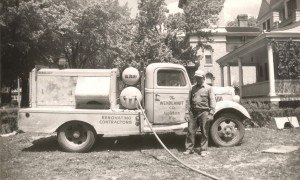 "The Wendlandt Company's" interest in building structures began in 1930 on Wells Street in Milwaukee, Wisconsin. Harry E. Wendlandt, then 26 began repairing and cleaning exterior masonry building walls and facades. Within two years the company moved to Appleton, Wisconsin and continued building preservation work. Our mission statement then was appearance and long term performance.
Leaky roofs resulted in upper wall deteriorated masonry which opened roof repair possibilities. The exterior building restoration phased out in the 1960's and the Harry E. Wendlandt Co. focused solely on flat, low slope and pitched roofs. The mission remained the same. The finished appearance of new roof installations was a  clear measurement of their expected long time performance. To this day we install roofs that will exceed 25 years.
Mission Statement
The ongoing mission of our company is to build and protect our reputation by providing the highest level of service and workmanship to our customers. All of this is preceded only by the safety of our employees and our customers.